Primarul general de Chișinău, Dorin Chirtoacă, a publicat astăzi pe pagina sa de Facebook poza în care a apare ținând o pisică în brațe, care, potrivit lui, ar fi probă în dosarul deschis pe numele său. Edilul capitalei menționează în context că Procuratura a comis un abuz atunci când a expediat dosarul în instanță, fără să-i permită să-l studieze până la capăt.
"Procuratura a dat bir cu fugiții. Astăzi m-am prezentat la procuratură pentru a continua studierea materialelor dosarului așa cum am fost chemat vineri, 21 iulie. În loc să-mi fie prezentate materialele, mi s-a adus la cunoștință că procurorul de caz a plecat în concediu, iar dosarul este trimis în judecată, cu încălcarea legii, fără să avem posibilitatea să-l studiem până la capăt și fără să vedem pe video confruntările, alte materiale etc. Apoi, conform Codului de Procedură Penală trebuia să formulăm cereri, demersuri, întrebări etc. Deci, încă un abuz din partea dumnealor", a scris Chirtoacă pe facebook.
La mesajul său, primarul a anexat și poza cu pisica din Germania, din anul 2014, care, spune el, este probă la dosar.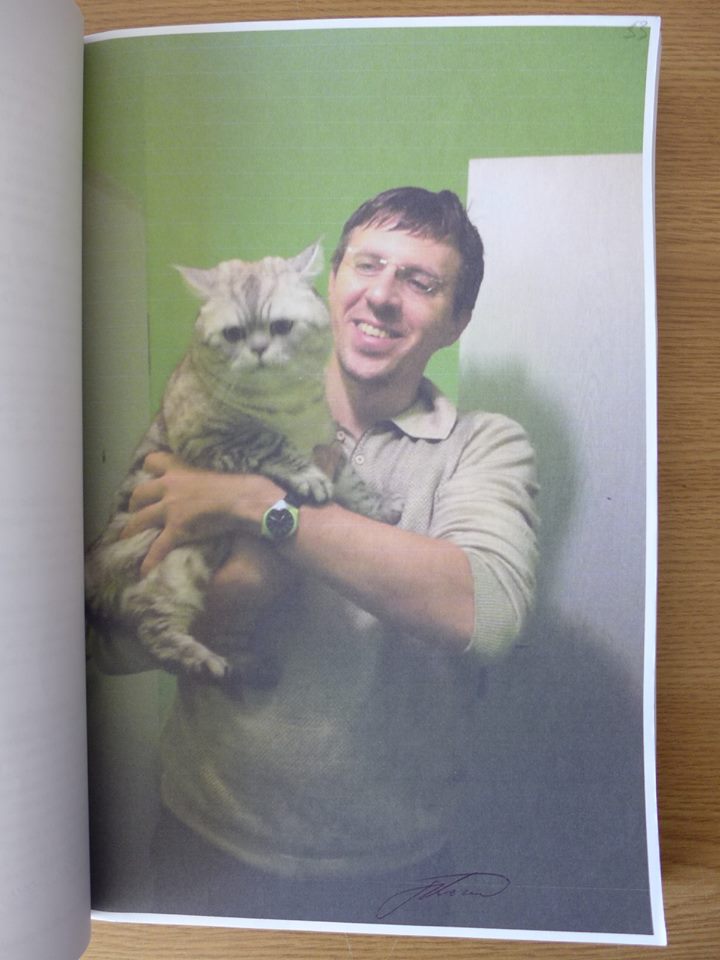 "Neavând alte mijloace de comunicare, în semn de protest față de acest abuz, public aici scrisoarea adresată partenerilor externi cu privire la acest caz. Nu am nimic cu cei care se ocupă propriu-zis de dosar, probabil își fac doar meseria, dar toate luate împreună, așa cum este descris și în scrisoarea de mai jos, arată cu totul altceva, decât se pretinde a fi...", a mai adăugat Chirtoacă.
Iată scrisoarea adresată partenerilor externi
To:
The European Union
The Council of Europe
EU Embassies to Moldova
United States Embassy to Moldova
Chisinau, 24th of July 2017
Excellencies,
For two months already I am facing an unjust situation. On 25th of May I was arrested, since the 26th of May I am placed on home arrest. Last week I had the possibility to see the file and the accusations. I have not found nothing new in those papers, excepting a picture with a cat belonging to a relative of a figurant of the penal case, a picture that was made in 2014, one year before everything has happened. All the other arguments of the investigation bodies are based on false statements of persons involved in the tender process, its falsification and also on some certificates of urbanism, which do not represent more than day to day work.
In fact it has become clear once again that I have no involvement in this story and that the penal case is politically motivated having as main purpose to get me out of position of mayor of Chisinau. In fact I have to say that during all 10 years of my service for the city, the attitude of the state authorities towards the city was similar to this one that we can notice right now towards me.
Last week, I made a public statement of condemning all these abuses and I have asked for the full publication of the content of the file, as well as I have asked for the access of International Organizations to the content of the file: (you can find the statement here: Romanian version -https://www.facebook.com/106244906075994/videos/1606098219423981/ , English version (subtitles) -https://www.facebook.com/106244906075994/videos/1609872979046505/ )
Meanwhile I have found out about many abuses regarding this case, and not only:
1. The penal case was opened before the illegality happened. In the first document of the file that was issued on 25th of September 2015 that some people "will arrange" a tender, it means to be prosecuted for crimes that you may be will commit in the future. Even the Soviet Union communists and the NKVD were not punishing someone for future crimes.
2. When the illegality has happened on the 6th of October 2015, the investigation bodies have not canceled / stopped the tender, even if they knew that it was arranged, and despite the fact that it is their duty to stop the illegality they know about.
3. Since October 2015 until now the investigation bodies have not asked for the cancelation of the results to the tender, while knowing about the illegality
4. While a court trial started in 2016 regarding the legality of the PPP draft contract the investigation bodies have passively observed the issue. During more that one year, nobody from the city administration was called to present any kind of explanations regarding this case.
5. The representatives of the PPP company from Hungary and Austria were never called also and even now the prosecutor office refuse to call them, while myself I had contacts only with them regarding this issue.
6. The lawyers were excluded by the prosecutor from the investigation hearings, after the first 5 days of my detention. All my requests to reaccept my lawyers are constantly refused.
7. Other penal cases on different other issues are opened and new intimidations and harassments are expected. The departments of the City Hall are under pressure. According to our information other employees as well as private persons are forced to make false statements against me.
8. Instead of publishing the case, as I have requested, the prosecutor office has published on the 21st of July only a press release with the main accusations and at the end has asked for my suspension, through a decision of the Municipal Council, while the Law says that the Municipal Council has no such a competence (http://www.procuratura.md/md/newslst/1211/1/7197/). Moreover, the file has been sent, today, the 24th of July, to the Court, without offering us the possibility to see it all and to formulate requests according to the law.
9. A referendum regarding my dismissal was approved by the Court on the 21 of July, and this is not a coincidence (taking into account also the general context - the change of the Moldovan election system by the Parliament, rejecting the Venice Commission recommendations).
Dear colleagues, you have made some statements, you have expressed your disagreement and disappointment regarding what happened in Moldova's Parliament on the 20th of July, and that Moldova has problems regarding the effective democracy.
I have made the same kind of statements on 22nd of May 2017, at the CORLEAP bureau meeting, that took place in Minsk. Only three days afterwards I was arrested.
As a conclusion I can say only that I have serious doubts that we can speak anymore about Moldova as about a democracy. And I think that this is only the top of the iceberg. We suppose that by the end of August already, while everybody is still on vacation, there will be pressure to have already a court decision regarding a penal conviction. We will continue to defend ourselves by all possible legal means. Also, we would be grateful if any assistance could be provided. I want to underline that if regarding me you can learn more about the abuses mentioned above, than regarding other persons, less known, less notorious, or completely unknown, the abuses are much bigger, are huge, they are usually just imposed to declare what the investigation bodies need, in order to get instead a preferential treatment etc (for example only the case of Andrei Craciun, convicted to 21 years of prison for a crime he has not committed. He was tortured to accept that he has killed 2 persons in 2011. So only after 5 years of prison, it was clarified that it was not him and he was released)
Regarding my situation I think that it is obvious that the investigation bodies have no chance with this penal case, taking into account its content less and the abuses mentioned above. Moreover, the prosecutor went on holiday since today. Or may be the conviction already is decided, so we just have to wait for the formal continuation of the procedure. I forgot to mention that those who have falsified the tender, who have done all the illegalities, and have publicly accepted of doing so, they are mentioned in the prosecutor's conclusions, that I have received today, you will not believe, only as witnesses.
On the other hand, doesn't matter which scenario will be followed, I am sure, that on the basis of other penal cases, other accusations will be formulated and this harassment will continue. And you know why? Because we are pro-European, because we want Moldova to be part of the European Union and to be a European democracy, because we started this fight and this process in 2007 and because we have real results of European projects and successes at least in the city of Chisinau. We have made reforms, brought financial balance tot the city, brought 200 new trolleybuses to the city, repaired more than 20 roads and streets, rehabilitated a great recreation area "Valea Morilor", solved the sludge smell from the waste water, started European projects in the field of water, roads, waste management and energy efficiency, brought foreign investments, opened the city for more than 1 billion EUR of private investments in construction area in the city during the last 10 years, and many other issues. So while we have achieved all these results, those who had the political power in the country (does not matter the political color), they have only put obstacles to us, they just have simulated or misused the European integration. They just want to hide their illegalities that happened at least during 2001-2009, the 7th of April 2009 crimes, the 1 billion EUR Bank fraud, the Chisinau Airport concession etc. After all these things, more than 100 persons a day, leave forever the Republic of Moldova and the announced fight against corruption is rather a curtain in order to hide the real corruption, the real problems of Moldova and its real heroes, or, in the best case is a mix, like the "mixt" vote recently decided by the Parliament. It seems that the purpose is to transform Moldova into a European label without any European content, or even worse - to make Moldova part of Eurasian Union or even of Russia, as it happens with parts of Ucraine.
Regretfully this is the real face of Moldova, and you know that I was mentioning this to you since 2010- 2011, when the first signs appeared with the "Banca de Economii" issue etc. I have mentioned this in Brussels, in Berlin, in Chisinau, everywhere, while Moldova was still considered the "best pupil" of the class, the best out of the Eastern Partnership...
Sincerely yours,
Dorin CHIRTOACA, General Mayor of Chisinau
Vezi și aceste știri
Advertoriale
E un efort pe care nu-l putem face
singuri, așa că te așteptăm alături de noi